Video, Sound, and Lighting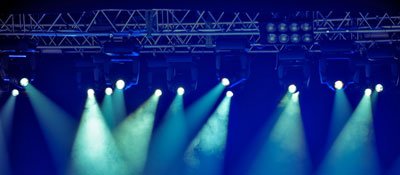 Quigley Creative Group would like to introduce you to our Video, Lighting, and Sound division.  We provide state of the art services in professional lighting and sound technology.  We would love to talk with you more about your upcoming projects and see how we could help.
Our main focus is Stage Video, Lighting, and Sound Installation.  We also provide mobile services.
Here are some of the services in dept we provide are listed below:
Stage Lighting:
Professional Moving heads
DMX Control
LED Technology
DMX Programming
Stage Light Design
Lighting Backdrop Design
Wireless Control
Trussing, Tracking, and Lifts
Power Conservation
Maintenance Packages
Extended Warrants
Remote Login
User Friendly Setup
Mobile Lighting and Sound
Electrical Consulting for Stage Lighting and Sound
Sound:
Professional Sound Installation
Sound Designs and Consulting
Mobile Sound and Lighting
Lifts and Mounting
Professional Brands such as Peavey, EAW, Shure, Mackie, Presonus, and Yamaha
Choir Monitors
Stage Monitoring
In Ear Monitoring
Wireless Microphones
Wireless Contro
Digital and Analog Technology
Live Recording
Demo Production
Song Production
Song Writing
Artist Consulting
Electrical Consulting for Stage Lighting and Sound
Video:
Professional Video Installations
LED TV Installation
Projector Installation and Servicing
Projection Screen Installation
Mobile Video Screen services
HDMI, VGA, DVI, CAT 5 Baluns, Cabling
Computer Consulting
Professional Presentation Programming such as Pro Presenter, Easy Worship, Media Shout, and PowerPoint
Wireless Video
Video Editing
Video Footage
Photography